Awards, Designations & Affiliations
Awards
SandStar has been very fortunate to have been the recipient of many remodeling and building awards over the years, but we feel that the best award is our many happy homeowners who love the work we do for them.
Designations
The following are industry designations that members of our SandStar Team have earned through their dedication to ongoing education.
NARI Member – National Association of the Remodeling Industry
NARI is a not-for-profit trade association that has educated, supported and united the remodeling industry dating back to the late 1930s. Our company joined NARI to promote professionalism within our trade and to keep up with the latest techniques and technology. Remodelers who want to become NARI members must be licensed by their state and/or local government where required, and pass a selective screening process. My being a NARI member lets you know that our company will work within high standards of honesty, integ-rity and responsibility to ensure that every project is planned well and done right.
FCMB – Florida Certified Master Builder
Florida Certified Master Builders are elite Home Builders, Remodelers and Commercial Contractors who are dedicated to excellence in building and client satisfaction. The builders who request certification hold themselves to a higher standard than required by the State of Florida for licensure.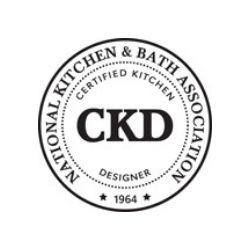 CKD – Certified Kitchen Designer
CKD® – Certified Kitchen Designers have a minimum of 7 years experience designing residential kitchen spaces. They are highly skilled in design, space planning and product selection and have extensive knowledge of building codes, flooring materials, appliances, and mechanical systems. They write specifications and draw plans that are easily interpreted by plumbers, electricians, and installers. A CKD must meet specific educational requirements and pass a comprehensive academic and practical exam.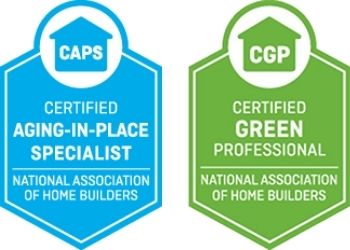 CAPS – Certified Aging-in-Place Specialist
The Certified Aging-in-Place Specialist (CAPS) designation program teaches the technical, business management, and customer service skills essential to competing in the fastest growing segment of the residential remodeling industry: home modifications for the aging-in-place.
CGP – Certified Green Professional
The National Association of Home Builders Certified Green ProfessionalTM Designation teaches builders, remodelers and other industry professionals techniques for incorporating green building principles into homes without driving up the cost of construction.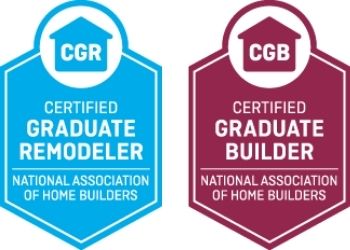 CGR – Certified Graduate Remodeler
Certified Graduate Remodeler is an exclusive professional designation designed to emphasize business management skills as the key to a professional remodeling operation.
CGB – Certified Graduate Builder
CGB is an exclusive professional designation designed to emphasize business and project management skills.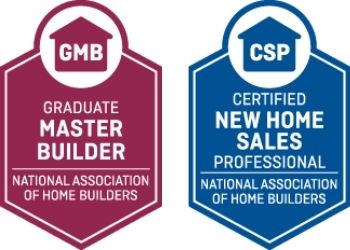 GMB – Graduate Master Builder
GMB is the designation for experienced contractors. Before beginning the GMB designation process, you must have the CGB designation, the CGR designation, or the CGA designation with five years of building experience, or ten years of building experience and have completed three CGB/CGR/CGA courses. GMB courses are more advanced with in-depth instruction geared for experienced building professionals.
CSP – Certified New Home Sales Professional
The CSP designation was designed for specialists in new home sales to enhance their professional image, increase their marketability in the home building industry and sell more homes!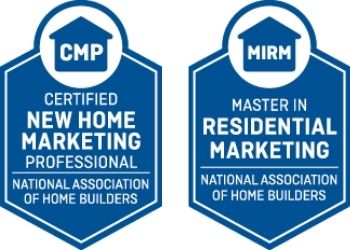 CMP – Certified New Home Marketing Professional
CMP is the mid-level designation for IRM students who have completed the marketing intensive IRM courses I though IV.
MIRM – Master in Residential Marketing
The MIRM designation is the top-level achievement for professionals in new home marketing.
Authorized Wellborn Dealer
Wellborn Dealers are skilled professionals who pride themselves in providing their clients with outstanding customer service and superior quality cabinetry.
They have the Wellborn product knowledge and expertise to provide advice on door styles, finishes, modifications and embellishments based on your design style preference. They can also assist you to optimize your room's storage space and functionality utilizing our vast selection of storage accessory cabinets, cabinet organizers and lighting.
They are committed to ensuring your satisfaction from the moment you walk into their showroom to the moment your dream becomes a reality.
NAHB – National Association of Home Builders
1201 15th Street, NW Washington, DC 20005
Toll free phone: (800) 368-5242
Local phone: (202) 266-8200 x0
Fax: (202) 266-8400
The Federation of the National Association of Home Builders (NAHB) exists to represent the home building industry by serving its members and affiliated state and local builders associations. The NAHB member, who are involved in all aspects of a diversified building industry, create jobs for millions of people and contribute significantly to the economic activity of their community, the nation and the world.
FHBA – Florida Home Builders Association
2600 Centennial Place, Tallahassee, FL 32308
Phone: (850) 224-4316
Fax: (850) 224-1359
The Florida Home Builders Association is a professional trade organization comprised of local associations and affiliated with the National Association of Home Builders. It serves its members by striving for a successful building environment throughout the state. The programs and services provided to FHBA's member enhance their professionalism and encourage their involvement in community leadership to improve the quality of life for all Florida citizens. The association is dedicated to an active governmental affairs program which provides sage and affordable housing and the opportunity for home ownership.
CDBIA – Charlotte-Desoto Building Industry Association
17984 Toledo Blade Boulevard, Port Charlotte, FL 33948
Phone: (941) 625-0804
Fax: (941) 627-9041
Email: info@cdbia.com
CDBIA is a non-profit organization consisting of a group of individuals and firms who care about their community and believe that home ownership should be within reach of every American. They encourage research within the building industry and give their informed and vigorous support to all sound legislative proposals affecting the industry. Association members come from all types of business-builders, large and small, architects, engineers, subcontractors, financial institutions, public utilities, manufacturers, suppliers, retail and wholesale firms and marketing professionals. These firms and individuals are proud of the part they play in building the communities where they work and live.
Charlotte County Chamber of Commerce
Port Charlotte Office:
2702 Tamiami Trail, Port Charlotte, FL 33952
Phone: (941) 627-2222
Fax: (941) 627-9730
Punta Gorda Office:
311 West Retta Esplanade, Punta Gorda, FL 33950
Phone: (941) 639-2222
Fax: (941) 639-6330
Punta Chamber of Commerce
252 W. Marion Avenue, Punta Gorda, FL 33950
Phone: (941) 639-3720
Fax: (941) 639-7498
Email: chamber@puntagorda-chamber.com
Florida Green Building Coalition
1415 E. Piedmont Drive, Suite 5
Tallahassee, FL 32308
Phone: (850) 894-3422
Fax: (850) 671-4897
Email: info@floridagreenbuilding.org
The FGBC's mission is to "improve the built environment" by helping all Floridians who are seeking to become more responsible stewards of the environment.
Ready to Get Started? Tell Us About Your Project.
Fill out the form below and a member of our team will contact you to discuss your potential project and the next steps.