2021 Southwest Florida Parade of Homes
March 6th – 14th, 2021
Mark your calendar and make sure to visit our gorgeous Regatta model!
605 West Henry Street, Punta Gorda, FL 33950
Hosted by the Charlotte-DeSoto Building Industry Association (CDBIA), the SWFL Parade of Homes is an annual, multi-site parade from the greater Charlotte County area, including Punta Gorda, Port Charlotte, Englewood, South Gulf Cove, Rotonda West, Babcock Ranch and North Port, and offers residents and visitors an opportunity to take a self-guided tour through the most beautiful communities with model homes from the area's premier builders. Through a partnership with the Sun Coast Media Group, a glossy magazine style Parade of Homes Guide will be released to showcase the different models and builders.
CLICK HERE to view the Regatta's featured page on the CDBIA POH event website!
Ready to explore some of the features of the Regatta?
Regatta 1592B – The Epitome of Luxury Living in Florida
3 Bed / 3 Bath / 3 Car Garage / Total Sq. Ft : 3,915 / Sq. Ft Under Air: 2,759
West Indies Elevation with Metal Roof; Contemporary Costal Interior Design
The coastal contemporary design of the Regatta enhances the picturesque Florida lifestyle. A soaring vaulted ceiling creates dramatic interest in the great room/casual dining/kitchen area, while 10-foot tall sliding doors open to an equally impressive outdoor space comprising a covered lanai and cabana. Highlighting the chef's kitchen are a large island, wine room and walk-in pantry hidden behind custom cabinet door panels.
Every wine lovers dream come true!
Take a peek inside the hidden pantry!
Modern luxury done right. At AR Homes, we design our homes from the inside out, with a collaborative team of architectural and interior designers to ensure they not only furnish properly for today's luxury buyer, but are also functional and efficient. That's how we earned our legendary reputation.
It's all in the details.
Every room is designed with luxury and comfort in mind.
Luxurious owner's suite, bathroom, and closet.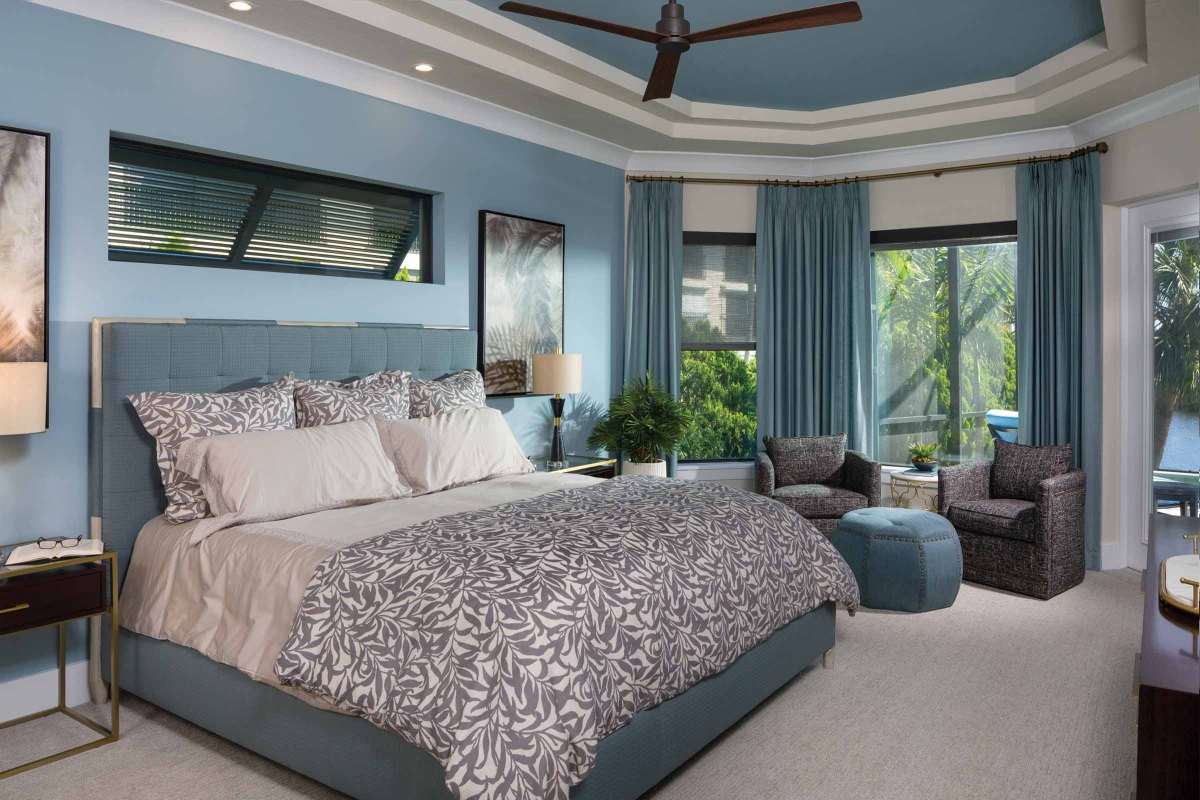 Sun ledge pool with panoramic screen.
Lush tropical landscaping.
We saved the best for last…
Just picture yourself lounging on the lanai of the Regatta with a cool drink in hand, the bright Florida sun warming you from the inside out, a gentle breeze and the tranquil sound of pattering water as you look out toward the gorgeous, tropical waterscape. What could be better? Come experience the view for yourself during the 2021 Parade of Homes!
****
SandStar Homes, LLC, is an independently owned and operated franchise builder of custom luxury AR Homes®. We can build on your lot or we can help you find one in Charlotte, DeSoto and South Sarasota Counties.
Our management team has over 40 years of combined home building experience, and we've won numerous awards, such as the Avid Cup Award in 2020, 2018, and 2017, Southwest Florida Parade of Homes Grand Diamond Award in 2017, Best of Charlotte Residential Home Builder Award in 2015, Gold Cup for Customer Satisfaction Award in 2013 and 2012, and Builder of the Year in 2011. For a true customer-focused and collaborative new home experience, let SandStar Homes, LLC, take care of your vision.
Because when you've designed it yourself, home sweet home becomes Home Dream Home.
CLICK HERE to learn more about AR Homes / SandStar Homes, LLC
Model Hours:
Mon – Fri: 10:00 a.m. – 5:00 p.m.
Saturday: 10:00 a.m. – 5:00 p.m.
Sunday: 12:00 p.m. – 4:00 p.m.
Contact:
Donna Saidi
Marisa Liberti
605 W Henry Street, Punta Gorda, FL 33950
(941) 505-1800 / ARHomes.com / Sales@SandStarHomes.com
(A special thanks to Donna, Marketing Director at Five Star Realty, for taking the extra photos at our Regatta model shown in this article)