For over 35 years, our award winning building and remodeling company has been dedicated to high quality construction in Charlotte County, Florida. Today, we are recognized for quality and experience within the building industry. This has been earned by years of commitment to the local community. Read more about the journey we started in 1981 below.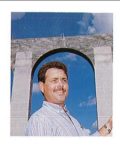 1981
Jim Sanders founded Five Star General Contracting, Inc., a full-service contracting firm involved in all aspects of building, including single-family home, condominium, remodeling and commercial construction in Charlotte, Lee, Collier and Sarasota counties.
1992
Larry Sandles joined Five Star General Contracting, Inc., as Vice President. Prior to joining Five Star, he was Vice President and a senior project manager with Sun Castle Builders of Punta Gorda. Larry's varied responsibilities at Sun Castle included supervision of all aspects of construction, from home conception to completion, and the daily business operations of the company.
1997
Jim and Larry completed their first collaborative construction effort under the new SandStar Custom Homes banner with the opening of the Grande Vista II model in May. SandStar Custom Homes was founded to highlight their award winning custom home endeavors, and focused on their "design and build" high-end, custom residential homes, while Five Star General Contracting continued its successful commercial and remodeling enterprise.
2004
Hurricane Charley slammed into the West coast of Florida, with its eye passing over Punta Gorda, FL. The SandStar team went into action and began helping their customers and their community rebuild one brickat a time.

2005
"SandStar" became the primary brand that included the following businesses:
SandStar Homes, LLC | SandStar Custom Cabinetry | SandStar Commercial |SandStar Custom Kitchens and Baths | SandStar Remodeling
2007
SandStar joined the Arthur Rutenberg Homes franchise family for new home construction and became Arthur Rutenberg Homes/Sandstar Custom Homes LLC serving all of Charlotte County.
2013
SandStar added two new divisions to their family…"Interiors by SandStar" and "SandStar Handyman" to help their clients decorate their new or remodeled homes and maintain them for a lifetime. Fully licensed for all phases of contruction, SandStar takes the worry out of hiring the best people to work on your home.