Upholstery
and Furniture
Care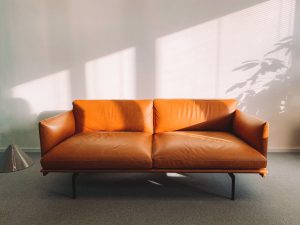 You know that fine layer of dust that collects on your coffee table? It also collects on your sofa, pillows, headboards, draperies, rugs and bedcovers. Can you imagine how the coffee table would look after a year without dusting?  Add a little body oil or perspiration and very quickly you need to call a professional cleaning service. You can avoid this simply by vacuuming your upholstery once a month. Be gentle and careful to use the proper upholstery tool. Just as you don't want to use a beater bar on some rugs, you don't want to put undue stress on upholstery fabrics. For leather furniture, you can simply dust the upholstery with a soft dry or barely damp cloth, or use the brush attachment.  
Decoding the cleaning codes on furniture:
W: 

Clean the fabric with water-based product, such as foam from a nonsolvent upholstery shampoo, without over wetting.

 

S:

  Use a dry-cleaning solvent, sparingly in a well-ventilated room.

 

WS:

 Clean with solvent or upholstery shampoo, depending on stain or soiling problem.

 

X:

 Have professionally cleaned.

 
Warning: Always test any cleaning solvents in an obscure place (under a cushion) to be sure the solution won't bleed your fabric or harm it in any way. Cleaning tags on furniture can be wrong. Tags are applied in a factory setting during the fabrication process and, believe it or not, sometimes the wrong tags are attached. Plus, there is information that the tags don't tell you!  For example: You should never spot clean silk as it could cause a permanent "ring" in the fabric. 
Who you should call for professional cleaning:
Only a few cleaners are skilled enough to clean very fine fabrics and rugs.  Most of them are not trained or know various fabric terms like "Chenille".  If you were to ask them if they can clean velvet or silk, they will say, "We won't even try!" So, do your homework, ask for references. . . or, you can call Olena to make a recommendation.  
Leather
There are also companies that specialize in restoring leather and re-stuffing upholstery. They can make a dry leather sofa look almost new or, minimally, give your leather piece a few more years of life! And leather can also be re-dyed and re-stretched to return a piece of furniture closer to the original state.  Even cat clawed leather can be repaired or improved. You'd be amazed. We have the skilled technicians that we can recommend. Naturally, I can also help you find new furniture pieces, but you might have some leather furniture that carries enormous sentimental value that needs restoration.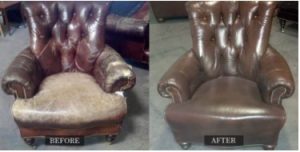 Scratched or damaged wood pieces:
Have you recently moved and had some pieces suffer during the transit? Water damage? Or, perhaps you need to give your dingy dining or billiard table a lift. We have the technician for this as well. Some minor work can be done in the home, some pieces will need to be moved to the technician's facility.  Please remember, never use products like Pledge on your wood furniture because it will dissolve the finish in time. Dusting wood furniture with a damp cloth is the best way to go. Also keep in mind that, in many cases, replacing a piece could be less costly than restoring.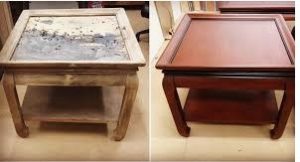 We're here to help with all your home furnishings needs! Give Olena a call at 941.205.2993 or email OlenaT@sandstarhomes.com or come visit our Design Center located at 1203 W Marion Ave in sunny Punta Gorda Isles! Open Monday-Friday 9am-4:30pm.

Olena Turkalo
Interior Designer
SandStar Interiors, a Division of Five Star General Contracting