So, You've finally decided to remodel your home!
We're sure you're wondering about how the whole process works so we've created the following list of information that will help you visualize the process….
1. Getting Started
If you're like many of our clients you've been collecting notes, photos, and articles over the years.
Create a scrapbook to collect them all in one place.Get together with your family and ask them for their input and wish lists.Come up with a budget you can live with.
Draw a rough sketch of your floor plan and take measurements (or locate the original blueprint from your builder).
If sketching and measuring are beyond your comfort level, don't worry, SandStar Remodeling will do it for you.
Then call us to make an appointment, or come to our Design Center!
2. Visit our SandStar Design Center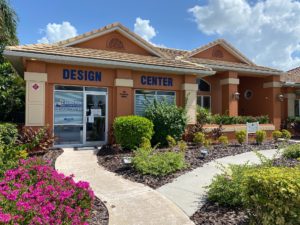 1203 West Marion Avenue, Punta Gorda, FL 33950
(Across from Fisherman's Village)
The first time you stop into our Remodeling Design Center you'll meet one of our design/sales staff who will . . .
Answer any questions you may have.
Discuss your scrapbook of ideas or your wish list.
Discuss your floor plan or original blueprint (if you have one) and go over some design ideas.
Discuss your plans for utilizing the room you will be remodeling.
Introduce you to our many lines of products and discuss their features and how they will be of benefit to you.
Check out our Custom Remodeling Services section to learn more about the services we provide.
3. Schedule a Consultation
The SandStar Remodeling Sales Associate and/or Designer will come to your home and take measurements and photos of the area to be remodeled.
They will then create a design, and draft perspectives, elevations, and a floor plan.
SandStar will create a proposal detailing all work to be performed and estimated costs.
We will set up a meeting with you to discuss the design and proposal and any potential modifications you would like to make.
4. Your Remodeling Plan
After you've signed a contract for your renovation, the Design Plans will be upgraded to full Construction Plans which include electric & plumbing plans and structural drawings if needed.
If needed the structural changes will be sent to an Engineer to design the proper construction.
When the entire Construction package is completed it will be sent to the building department for Permits.
5. The Installation Process
We will remove your existing cabinetry, appliances, flooring, walls…everything to conform to the new design plan.
To ensure a quality installation, the SandStar designer will meet the installer at your home to discuss the details of your plan and installation.
All installers and sub-contractors will be scheduled in a timely manner.
We'll take ongoing photos of the remodeling process and upload them to our online site where you can view them. (This is especially pertinent for out of town clients.)
Be sure to check out our Remodeling Hints section for tips on how to make your remodeling project easier to work through.
6. The Finale!
SandStar will schedule a "walk through" with you to go over the project.
We will take "after" photos and may post them to our blog or website.
You'll be able to enjoy your new "space" for many years to come.
We at SandStar Remodeling know what dreams are made of.
We should because we have been building dreams since 1981.
We look forward to building yours, too!
So start dreaming about the possibilities and then give us a call at (941) 637-8080 or fill out the form below.
Visit our Design Center  at 1203 W. Marion Avenue, Punta Gorda, FL33950 – It's the terracotta building!