8 Elements of a Transitional Kitchen
More and more clients are wanting to simplify their kitchen styling.  With a mixture of traditional charm and contemporary chic, transitional kitchens strike just the right balance in your home.  Lisa Frederick, a Houzz Contributor, sums it up perfectly with 8 elements to help describe the details that define a transitional styled kitchen.
Think of a transitional kitchen as the great moderator. With the warmth and welcome of traditional design and the clean, simple lines of contemporary style, transitional spaces project balance and harmony. Because they offer a great deal of flexibility, they're a great choice for homeowners who don't want to confine themselves to a single style or whose taste spans the two.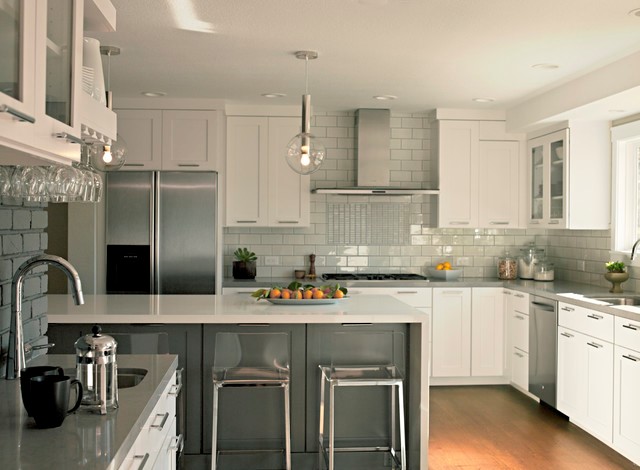 Crisp cabinetry. Cabinets in a transitional kitchen have a streamlined profile that falls just short of modern. Generally made of wood rather than a contemporary material such as lacquer, they sport simple paneled doors and sleek hardware.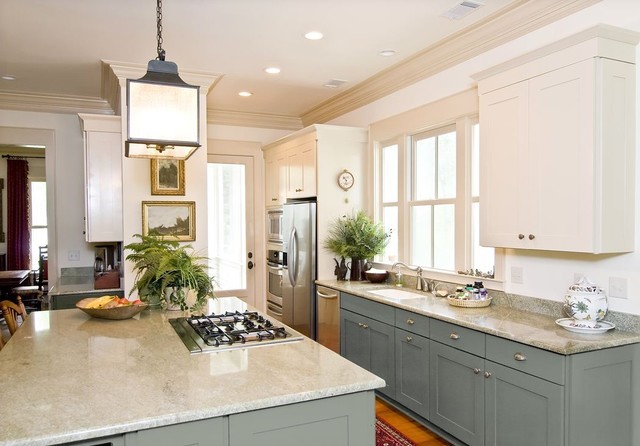 Natural surfaces. Granite, marble, limestone and other natural countertop and flooring materials are versatile enough to fit into either traditional or contemporary style. So it makes sense that they're a perfect fit for transitional kitchens. Just steer clear of elaborate edge treatments on countertops or other flourishes that would look too ornate.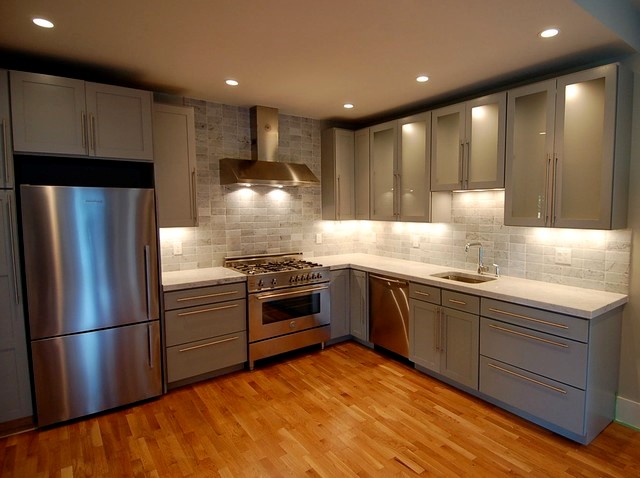 Melissa Miranda Interior Design
Streamlined tile. Transitional kitchens often interpret traditional tile in a new way. For example, this backsplash features classic tumbled tiles stacked in a grid, rather than in a more conventional offset or basket-weave pattern.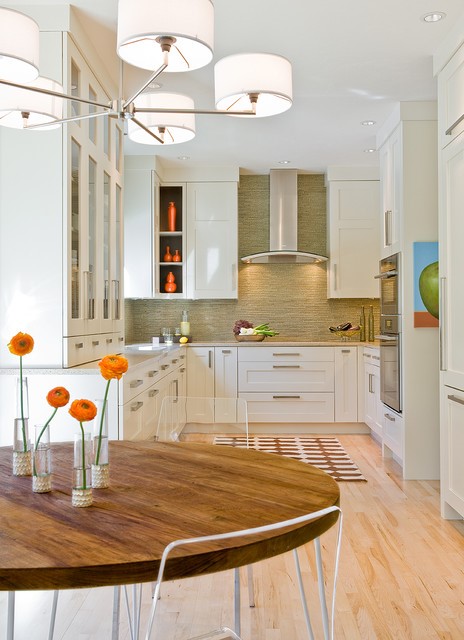 Simple accents. Accessorizing in a transitional kitchen is minimal — note the pared-down pottery collection and deconstructed floral arrangement in this space. Avoid fussy displays and clutter and keep patterns simple and graphic.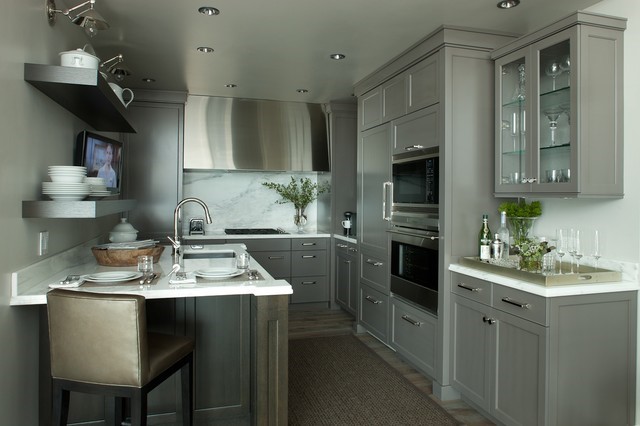 Natural materials against manufactured ones. A stainless steel range hood gleams against the wood cabinets and marble backsplash in this space. Mixing the organic and the man-made is a cornerstone of transitional design.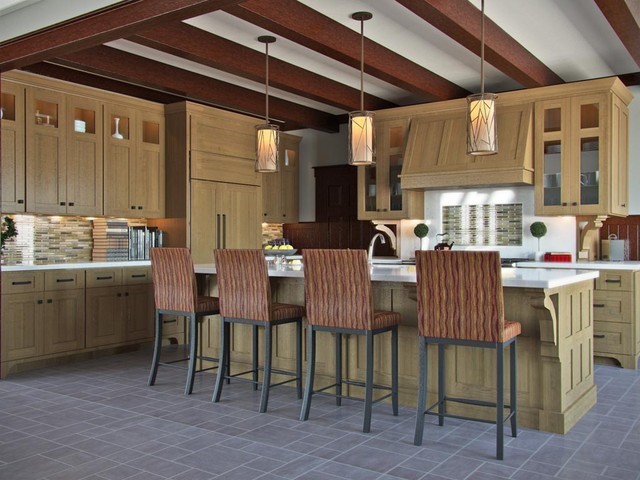 Neutral colors. Transitional rooms rarely have strong, punchy palettes. Instead, they layer neutrals for a clean and monochromatic, yet still warm, effect. A dash of bold color here and there isn't verboten but keep it to a minimum.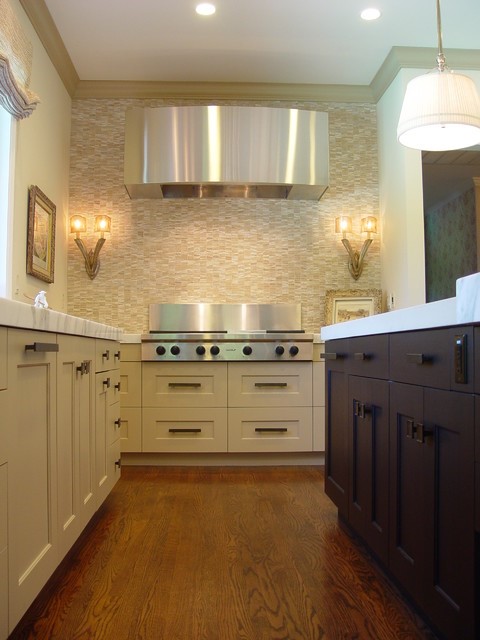 Lots of texture. Due to their neutral palette, transitional kitchens usually feature textural elements that add visual spark. The tile backsplash in this space extends up the wall for a sense of motion and a tactile feel.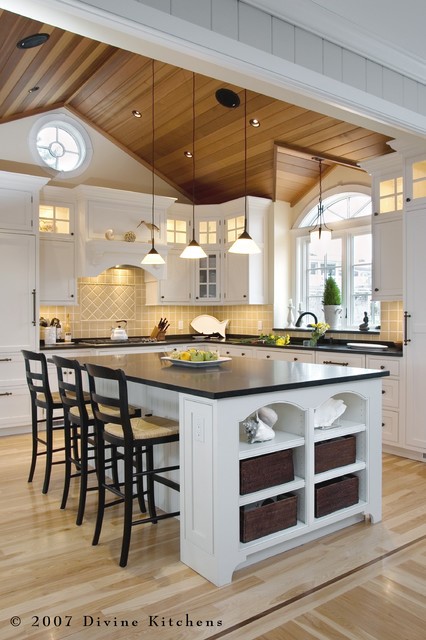 A touch of embellishment. Part of what separates transitional kitchens from contemporary ones is that they allow for just a hint of decorative ornamentation. Millwork, corbels, windows, furnishings and more bridge the gap between fancy and plain. Don't go overboard, though, or the look will read as more traditional than you intend.
(Original article link: https://www.houzz.com/magazine/kitchen-workbook-8-elements-of-a-transitional-kitchen-stsetivw-vs~1989275)