Home Office Space
With the current COVID-19 pandemic, many people are working from home. Some that have previously rented a small office space are now finding that they can function just as well from a home office. In addition, both spouses may be needing a work space along with a school area for children. As this trend continues, maybe it's time to think about adding dedicated space in your home. 
So where do you begin?  First, create a detailed list of your needs for a home office. Are you going to be on the phone frequently? Ideally, your office should be in a quiet area that allows you some privacy. This is especially important if you share the house with a spouse or children. Will you need to be meeting with clients in person? You may want to look at areas near the front entrance of the house or you might need a dedicated studio that is separate from the rest of your home. How much room will you need? Do you only need a space for a computer and a few documents or do you need an area that allows you to spread out? As designers we need room for blueprints!  Do you need room for more tech equipment? Creating this list will assist you in finding the perfect space to carve out in your home.
Once you have figured out what you need, the next step is to look at the areas of your home with fresh eyes. Is there a rarely-used guest bedroom that can be re-worked to be used as both an office and the occasional guest room?  Incorporating a Murphy Bed can open up the space for both a larger desk and tech equipment.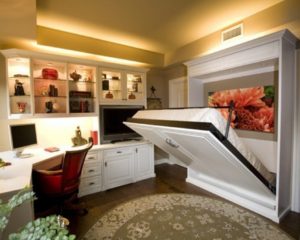 If you can share a space with your spouse, another option is to create a dual desk area along one wall.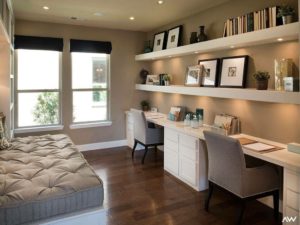 Or if a smaller space is needed, commandeer one of those closets that is being used for storage. This also provides a great opportunity to rid yourself of some of that clutter! 
Another room to give a close look to is the formal dining room. Do you actually use it or is it just housing that dining room set and china cabinet you never use? Generally located at the front of the home, it's a perfect location for those needing to meet with clients. If it is open to the great room, you could create some privacy with a screen or room divider.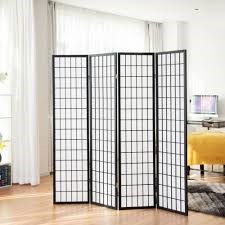 If you need more privacy, the area can be enclosed.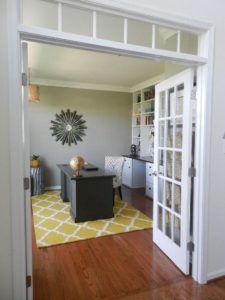 What ever your needs, the Designers here at SandStar Remodeling and Interiors can assist you in carving out that area.  Whether it's furniture, built-ins, or even a renovation, we can help you design a space that works for you! 
Abbey Roloff
Vice President, Design & Construction
SandStar Remodeling & Interiors
(941) 637-8080
remodel@sandstarhomes.com