What is ART?
You've probably heard this statement many times ….
"Surround yourself with things that bring you joy."
In a perfect world, all our senses would be tickled and inspired: taste, smell, sound, touch and visual. It might not be possible to create a state of constant bliss in the outside world, but perhaps we can come closer to achieving this state of being within the confines of our own home. After all, HOME is supposed to be the place where your spirit can happily and comfortably reside. We don't eat badly tasting food, we don't buy clothing that doesn't fit and we don't listen to music that annoys our spirit.  Similarly, our homes should not be places that are unpleasant. We can choose to surround ourselves with art that is candy for the eyes.
The dictionary definition of art: "The expression or application of human creative skill and imagination, typically in a visual form such as painting or sculpture, producing works to be appreciated primarily for their beauty or emotional power."(https://www.dictionary.com/browse/art)
That's a wonderful description. So, I contend that, by definition, this would embrace most of the items that are in the home which will include furniture, vases, rugs, curtain textiles and pillows as well as the normally accepted art items such as paintings and sculpture. Our entire environment could be considered art. And art does not necessarily need to be million-dollar items to be appreciated or cherished.
Another factor to consider is that our environment will change with time. As people we grow, we mature, we gain knowledge and experience, we travel and our tastes evolve and refine with time. Our art will change as we change. We can allow ourselves to replace items with which to decorate our home. These can be seasonal changes, annual changes or perhaps even new selections after decades. After all, these items define who we are to a certain extent. We don't just fill space; we want art to add charm, interest, beauty and joy. After all, is there a point to displaying a painting that evokes a negative emotion?
Mother Nature is the best artist of all. The following few pieces bring organic and updated sculptural art elements into the home. These pieces can be ordered from our Design Center.
This twig art is cast from an actual branch and can be installed in multiples and intertwined in various directions. Each twig is 60" H x 28" W x 7.5" D. Available in nickel and brass (shown). Mixing metals can also be done.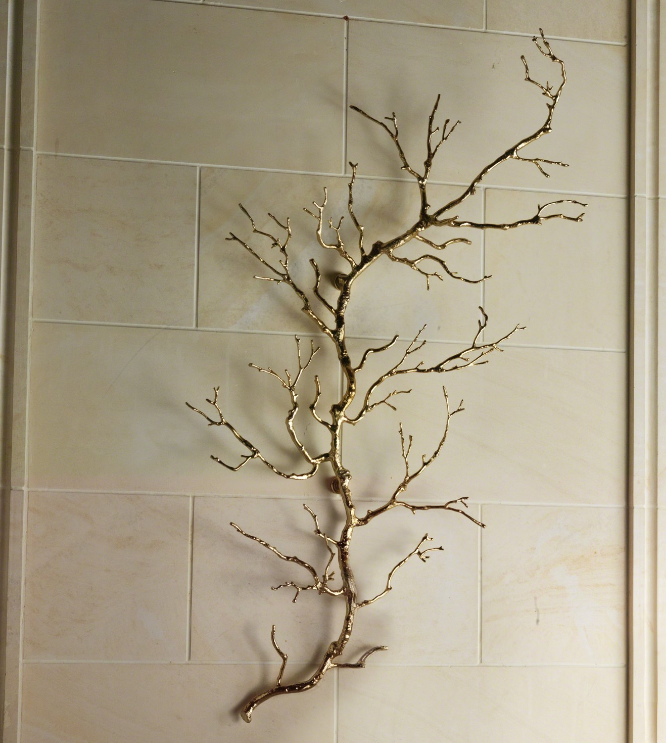 Here is a lovely shelf that is inspired by Mama Nature: a twig design to hold art pieces.  Available in nickel (shown) and brass. 10" W x 7.25" W x 11"H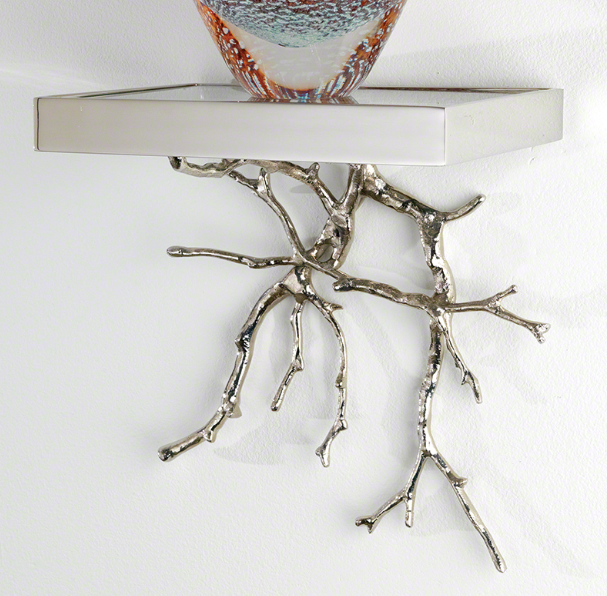 Oh, this takes my breath away! Mother Nature wins again. A fantastic coffee table is the art in the room. This wood was in the ground under the right conditions and slowly petrified to become black and white stone. 48" W x 48" D x 16" H.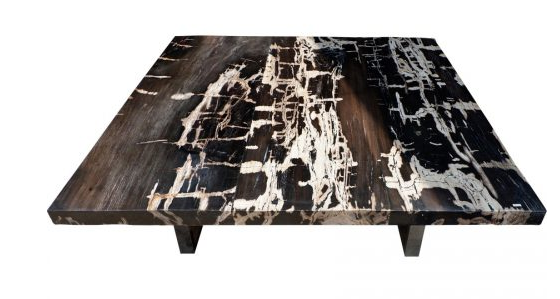 Also available in other shapes and sizes: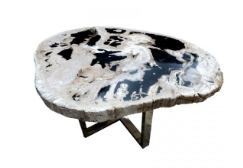 This piece of Suar wood is a sculpture on a stand 41" W x 13" D x 76" H. Place this in front of a bright colored accent wall and you will be mesmerized by your art piece for many years to come. And it's OK to touch!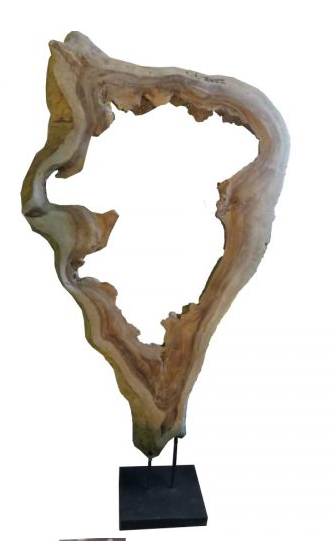 OK, so what about this idea…. fabric can be art too! Shown here is a collection of indigo Ikat fabrics, framed. Any collection of textiles can be framed and displayed in this updated way. Size, shape and color of the frame will dictate the result.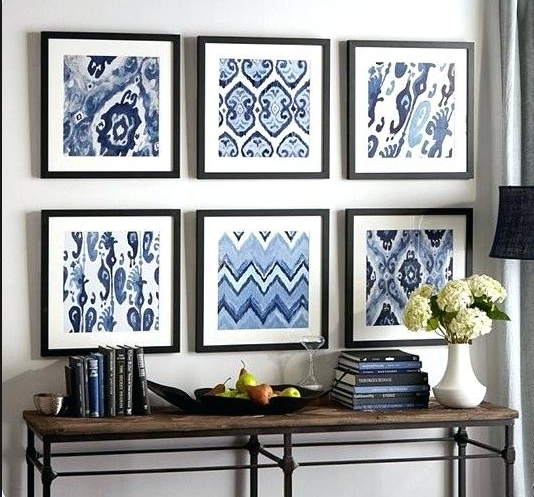 And jewelry is art too; displayed with other objects or with books on a surface or shelf or in a glass case creates an impactful result. Available from our Design Center in various designs.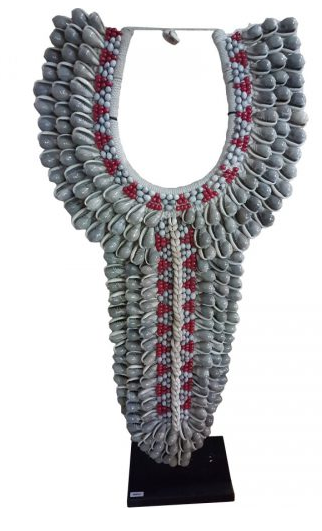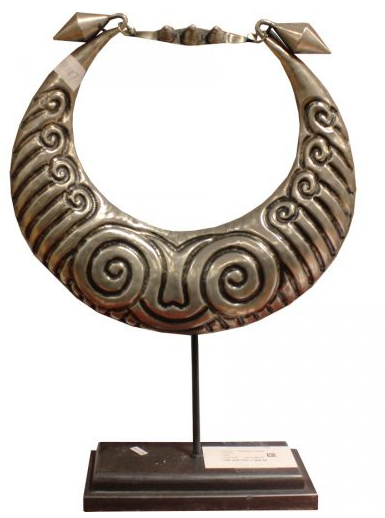 Look at this great idea! Build a collage of small family photos that can be seen at close range, even on corner walls. The effect is sculptural.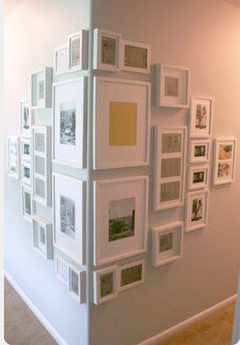 Don't we all have boxes of record albums in the garage? Isn't this the music that we love and which evokes happy memories? Unpack those boxes and hang the covers (framed or unframed) on a brightly colored accent wall. Perfect for a Den or Guest Bedroom.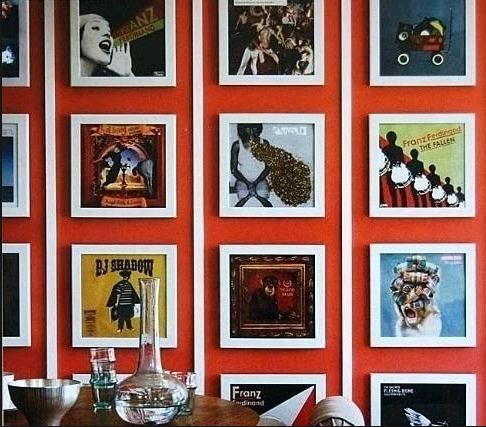 And for the quilters out there; create framed abstract quilts as art for the wall, not just for the top of the bed.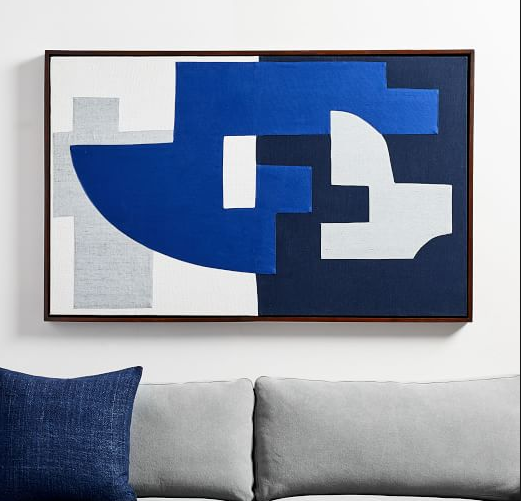 Any collection of items can be used as art. If it evokes happiness, contentment and makes your heart sing, I am all for it. We can help to address any aspect of the interior design of your home to make it joyful and express the updated song that is in your heart.
We at SandStar Interiors are here for you. Please call Olena at 941. 205. 2957 or email: olenat@sandstarhomes.com.
Olena Turkalo
Interior Designer