Abbey Roloff
Vice President of Design and Construction
SandStar Remodeling and SandStar Interiors
Thinking About Remodeling Your Bathroom?
Have you been dreaming about a new bathroom?  Most people have no trouble imagining what their dream bathroom would look like–and it's different for everyone. Just take a look at our Houzz profile  – https://www.houzz.com/pro/sandstardesign/sandstar – and you'll see many different styles and options we've incorporated into bathroom renovations. While some people have a vision of the entire bathroom, others simply know what feature they'd like to add.  However, everyone can think of at least one thing that they'd love to have in their bathroom.  Remodeling your bathroom is the perfect opportunity to change it up and create at least a portion of that dream. However, there are a few questions you'll want to consider before you get started. 
How Much Space Do You Have to Work With?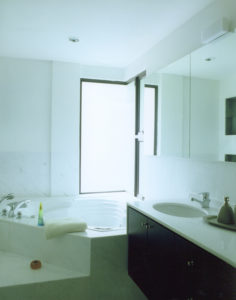 Bathrooms come in all shapes and sizes. For example, are you looking to renovate a standard 5' x 9' bath or a bath the size of a small bedroom?  Larger baths have enough room for you to give your creativity free rein, while others have only enough space for the bathroom necessities. Before you start thinking about your dream bathroom, take a moment to really look at the space you have to work with. While you may really want a large walk-in shower, the reality may be the only place for the new shower is where the combination tub/shower is located. 
How Much Storage Do You Need?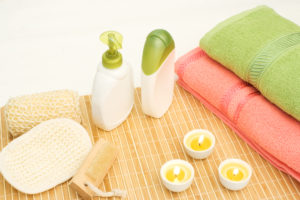 If you have linen closet outside your bathroom, you may not have to worry about cabinets and shelves.  However, you will want to make sure that you have plenty of room for all your toiletries that you use on a daily basis. On the other hand, if you don't have a big enough linen closet to hold your extra towels, toilet paper, and other bathroom necessities, you'll want to make sure that there's plenty of storage room built into your bathroom. Some features to consider are towers, medicine cabinets and adding drawers to the vanity. Even vanities only 30" wide are available with drawers. 
Shower, Tub, or Both?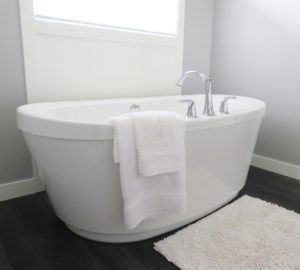 While some bathrooms have plenty of room for a huge tub and a stand-alone shower, others only have the space for one. Many of our clients prefer a large, curbless walk-in shower which provides the better option for aging in place.  Some, however, still appreciate a good soak in a tub after a long day.  Showers and tubs take up more space in your bathroom than any other fixture, so the space typically ends up being designed around these fixtures. If you mostly use the shower but like to soak in the tub occasionally, you may not want to give up the tub. Or maybe that pool in the backyard will suffice for the few times you use the tub so you're willing to sacrifice in order to get a larger shower. 
How is the Room Shaped and where are the Openings?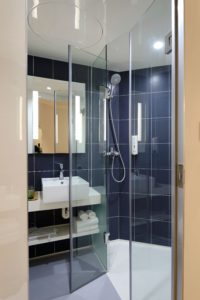 While most standard bathrooms are a rectangular shape, some are constructed around other areas of the house or given a strange shape to make room for other items such as pipes and other features, like an angled wall in an adjacent room. Another item to look at are the openings. Where does the door come into the room? Does the room have windows and how high are they from the floor? These are some of the items you need to work around when making decisions for your bathroom's design.  Sometimes items can be moved or even removed, but this will definitely affect the budget. 
What Features Are Most Important to You?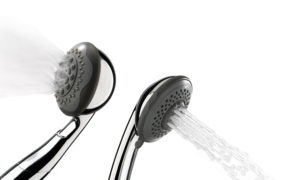 Eventually you will need to decide what is most important to you.  Both budget and space can determine the final design and finishes. If you really want that luxury shower, the vanity may need to be shortened, therefore, providing less storage. A porcelain tile that mimics real Carrara marble may be the better option so you can install those body jets. 
So dream away until you're ready to move forward.  In the interim, decide what features are most important so that it will be easier to make decisions about what you really need.  When you're ready, give the SandStar Remodeling team a call and let us help you make your dream come true!
 (941) 637-8080