15 Elements of a Traditional Kitchen
Traditional kitchens are defined by their details, and creating eye-catching detail is not just as simple as putting legs on an island. But whether they're Old World or Mediterranean flavor, traditional kitchens all share the same basic elements. Rebekah Zaveloff, Houzz Contributor, defines 15 details that help you create traditional kitchen style.
1. Architectural details.
 Traditional kitchens focus on the details in all areas. There's a bit of embellishment or adornment everywhere you look, but the best traditional kitchens just feel layered rather than overbearing. Speaking of details, this kitchen has it all — arches, moldings, beam ceilings, framed and raised-panel cabinets, a custom hood surround, chandeliers, furniture-style cabinets and, of course, 
island legs
. Note how each area has detailing: the island's turned legs, the dark paneled wood piece in the front that's probably hiding a refrigerator, the shape and moulding of the custom hood surround. And all that is in addition to the raised panels, the flush inset cabinets and the box-beam ceiling.
2. Flush inset or framed cabinetry. The type of cabinet construction can have a significant impact on the way a kitchen looks. Full overlay or frameless cabinets are associated with a more contemporary way of building a cabinet — the door overlays the frame of the cabinet, and you don't see any exposed hinges. Flush inset or framed cabinets are associated with an Old World way or furniture-style way of building cabinets. With this sort of construction, you'll see the frame around the doors, and the doors and drawers are set flush with that frame. You'll also see exposed piano hinges in silver, oil-rubbed bronze or even antique brass.
3. Glazed and antique cabinet finishes. Traditional kitchens often feature cabinet finishes that are glazed or made to look aged and distressed. Whether you're using antique white or a color like the island shown, a bit of glazing can add instant age and patina. Be careful, though. Some antique finishes look fake, so make sure your cabinetmaker has samples for you to approve before ordering.
4. Raised-panel doors. Whereas you'll see flat-panel doors in a modern kitchen and simple Shaker doors with a bead mold in classic kitchens, traditional kitchens have more ornamentation. Raised-panel doors come in many different styles, and the shadow lines created by this extra detail are a signature look of traditional kitchens. Check with your cabinetmaker regarding the options.
Jean Allsopp Photography
5. Mixed door styles and finishes. Traditional kitchens often use multiple finishes. Sometimes you'll see one color or style cabinet on the perimeter and another on the island, for example. And you don't have to stop at just two; feel free to mix in a tall cabinet with a natural stained-wood tone. Even a section of cabinets such as a breakfast bar or butler's pantry can be done in a third or fourth color. Mixing finishes gives traditional kitchens a collected-over-time feel.
6. Decorative cabinet door inserts. There are limitless detail options for cabinets in a traditional kitchen: glass with a beveled outside edge, antique glass, wood mullions in dozens of different arrangements or metal mesh inserts as shown in this kitchen. Some traditional kitchens even employ different options in different sections.


7. Decorative moldings and corbels. In keeping with the idea that more is more, you can add also ornamentation with carved corbels or brackets and applied molding between cabinets.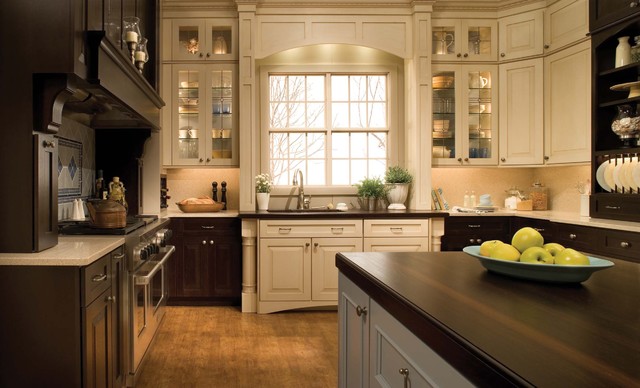 SKD STUDIOS
8. Architectural details for cabinetry. In this kitchen you'll see legs on the sink-wall base cabinets in addition to an architectural surround that really draws your eye to that focal point. You may also note that the sink's base cabinets are a different depth than the cabinets on either side — these undulating depths add visual interest. Traditional kitchens employ details like legs and pilasters on islands, furniture-style toe kicks that make the cabinets look like they're freestanding, and custom wood hood surrounds that sometimes look like fireplace surrounds. All of these details layer on top of one other to make a traditional kitchen go the full distance.
This kitchen shows some of these architectural elements: hearthlike hood surround, pilasters on the island, furniture toe kick and more.
9. Apron-front sinks 
or 
farmhouse sinks
 are another signature element of traditional kitchens, though these are pretty popular in 
classic kitchens
as well. The old-fashioned handmade character of these sinks draws a wide audience.
10. Luxury countertop materials. 
Calacatta and Statuary marble, walnut butcher block, quartzite and light granites are all popular choices for traditional kitchen countertops. Even though marble is a more 
high-maintenance
 choice, it has an Old World feel that keeps drawing people back to it.There are also lots of manmade quartz materials that simulate the look of marble and limestone if you want something easier to deal with.Honed or nonshiny finishes on countertops seem to be more traditional in general, although polished stone does show up occasionally.
11. Ornate and decorative lighting. Traditional kitchens boast crystal or brass chandeliers, lantern-style lights — generally speaking, lighting that you might expect to see in a dining room more than a kitchen.This trend is certainly less Old World, since the kitchens of the past weren't used the way we use them today, but this sort of lighting makes them feel more like living rooms than utilitarian spaces.

12. Custom metal, plaster and stone hoods. As an alternative to wood hood surrounds and fireplace-style hoods, traditional kitchens often feature ornate metal hoods, custom-shaped plaster hoods with moldings and corbels, and even carved stone hoods.
A plaster hood is often just as ornate, but it's less heavy than wood. This style also works great when you don't have wood cabinets flanking the hood to tie the hood into, because the plaster hood stands on its own better.
13. Backsplash niches and ledges. Going that extra step with small, unexpected details is what makes a traditional kitchen feel the way it feels. Niches behind the stove are one such detail.
Niches flanking the stove that are built into the hood surround are another solution.
14. Furniture-style tall cabinets. Cabinets that don't look like cabinets are a big hit in traditional kitchens. The stained wood cabinet on the left could be hiding the pantry or the refrigerator.
15. Hutch-style cabinets. 
Hutch cabinets
are often though of as dining room furniture, but they've migrated into many classic and traditional kitchens. The added storage they provide by going down to the counter is something few homeowners can pass up.
(Original article link: https://www.houzz.com/magazine/15-elements-of-a-traditional-kitchen-stsetivw-vs~1393677)