SandStar Remodeling is just one of our fine family of businesses all located at
1203 West Marion Ave, Punta Gorda, FL 33950
(across from Fisherman's Village)

You can count on the professional staff at each of our companies to work with you in a caring and knowledgeable way…Helping you create the Florida home of your dreams…for Remodeling, New Construction or Real Estate.
New Construction, Custom Homes by
SandStar Homes, LLC (franchisee)
Custom Homes – New Construction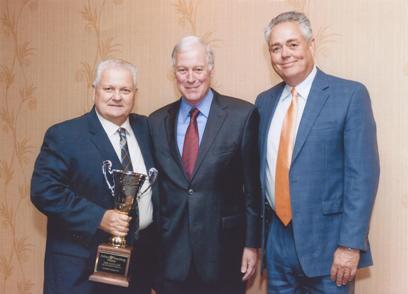 Larry Sandles, Barry Rutenberg, Jim Sanders
2014 Gold Cup Award
for Exemplarary Customer Service
Since 1953 Arthur Rutenberg Homes has been recognized for their unrivaled beauty and craftsmanship and for the way they elevate fine indoor/outdoor living. Hand selected by Arthur Rutenberg, SandStar Homes, LLC joined the Rutenberg franchise in 2007. Since then they've been awarded the "Chairman's Award" in 2010 for their custom homes, "2011 Builder of the Year", "2011 Model of the Year" (under 3200sf) and the "Builder Gold Cup Award" (based on client satisfaction surveys) for three years in a row…2012 – 2013 – 2014!
Visit Our Beautiful Model
The Turnberry II
 3400 Bal Harbor Blvd, Punta Gorda, FL 33950
Open Monday to Saturday 10 – 5
Sunday 12 – 4
2499 square feet of living space
3590 square feet under roof
This beautiful home features:
3 bedrooms, 3 baths, a den and a 3 car garage.
For more information about our models, phone: 941-505-1800 or 1-888-440-7848
OR
Visit our new home website for more information about the many locations in Charlotte County, FL where we build!