Textures, Textures, Textures!
Many of you have attended our various seminars and have heard us speak about trends and color and how TEXTURES are replacing PATTERNS. This trend is showing up in various home furnishings products including bedding, towels, wallcoverings and area rugs.  
Here are two photos of what would traditionally come to mind when speaking the words "area rug":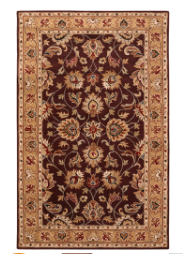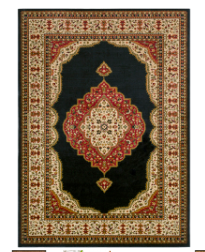 The product would be made of wool, would have a border and a center medallion, would show a pattern from a region in Turkey, India, Armenia or Afghanistan. It would have dark brown or wine colors. Nothing wrong with this: It's traditional!  
But what if you're now open to a modern concept? What kind of area rug would you use in a room that has this wallcovering?  (By the way, this dramatic textured wallcovering is available in numerous sensational colors and is a current favorite of mine.)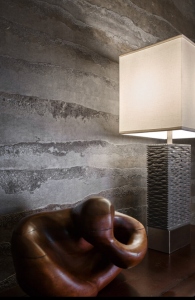 How about pairing the textured wallcovering with a textured wool and viscose rug like shown below?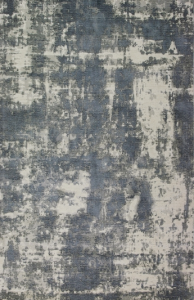 Is this too modern for you? Too drastic a change?  Does it look like someone spilled paint on it?  
Then what about selecting this: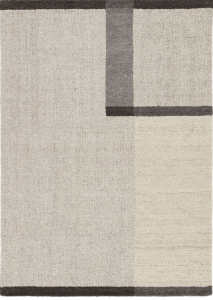 Fantastic wool rug in neutral tones, textural cut and loop weave with black accents. Visually dramatic and impactful. 
And you can also use a rug like the one shown below with the same wallcovering. This rug shows a modern pattern in a non-traditional fashion. It's easy to accessorize this room and add all the needed furnishings.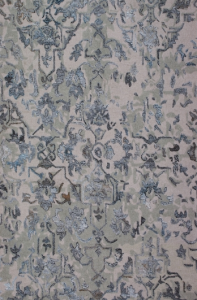 Here's another example of a new wallcovering being used today. Gone are the days of repeating pictures of palm trees on printed wallpaper. Now we have textures: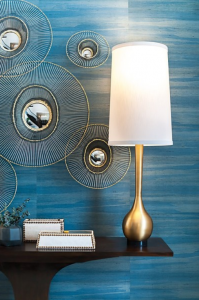 And we're pairing textured wallcoverings with area rugs like the one below. We've been speaking with you at our seminars about modern rugs for about three years now. At first this style rug could have looked very odd to you, perhaps even scary. You might have been afraid to commit to this look. I wonder if your eye has now become more accepting of this textural abstract format. This rug evokes the feeling of water and this particular coloration is perfect for Florida!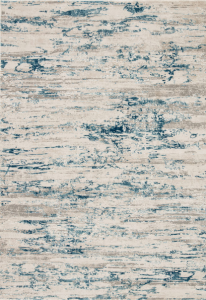 And here is another example of a textured rug with a non-traditional pattern that is easy on the eyes and updated looking without being over-the-top modern! It is truly updated and will bring freshness to your home.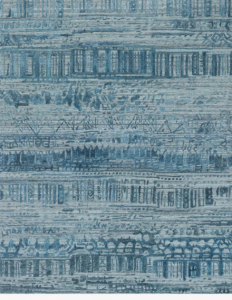 And remember that we discussed INDIGO being a color that would make its way into the home furnishings world? Here are some lovely examples of indigo rugs.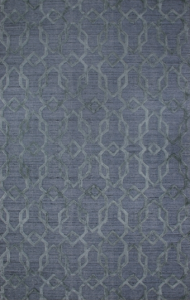 This allover pattern uses wool and viscose fibers to show the contrast of gleam against dull, also available in round. It's modern without being crazy. 
Here's another example of Indigo in the modern rug market. Abstract allover design adds color and texture and is lovely underfoot. Rugs like this offer grounding to your room and easily embrace all the other furniture pieces.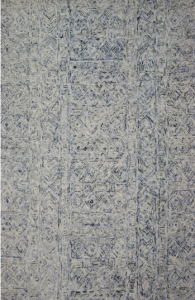 For our customers who enjoy motifs which are more traditionally recognized, here is an example of an Indigo rug with typical rug motifs on a non-traditional background. This rug still offers you an updated appeal, allover pattern, without leaving familiar look of a rug: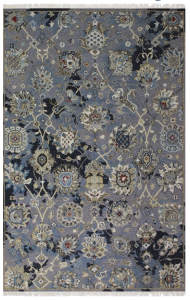 And for those of you who think the Grey might be trending out, this same rug is also offered in grey!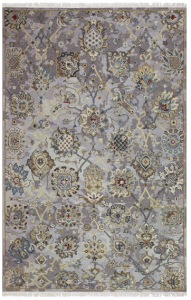 We also want to remind you of the gold trend we spoke about at our seminars and how gold would be expressed across all product categories.  
Here are some examples of gold making its way into the rug market: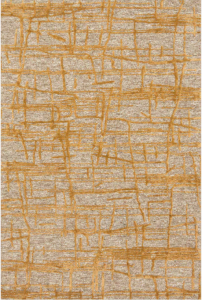 In both these examples the gold color is incorporated against a grey background. Using these rugs makes it easy to mix metals and integrate new gold accessories into a room that already has brushed nickel or chrome elements.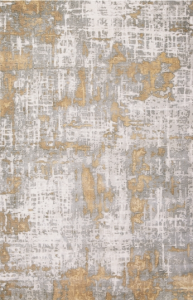 And look! We happen to have the perfect coordinating textured wallcovering in grey and gold!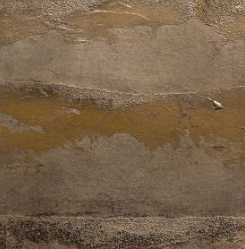 All the items shown in this newsletter are available to be ordered through our Design Center and we invite you to set up an appointment to discuss your personal dreams and desires. We also want to mention that we have a new seminar series planned; all dates and topics will be published in a future newsletter.  
We thank you for your business and look forward to seeing you soon. Please call 941. 205. 2957 or email olenat@sandstarhomes.com for an appointment.
Olena