Fire Pits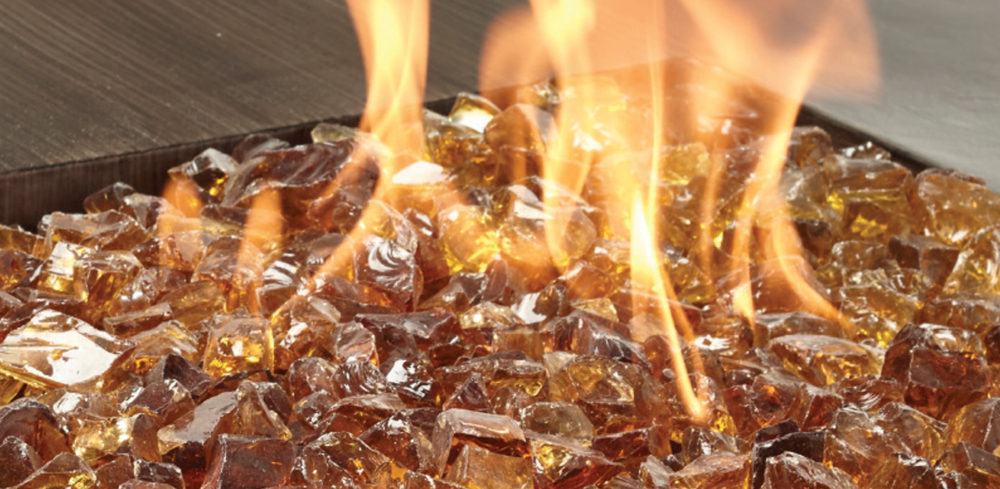 There are several elements in nature that most of us respond to both positively and innately. The warm sun, gentle breezes, the sound of water falling or trickling are some examples that come to mind. Sitting by a fire and watching the flames dance is another. While some of us don't have access to large back yards where we can build wood-burning fires, we do have access to commercially-available devices that allow us to enjoy our instinctive love of gathering by a flame.
Gas powered fire pits and fire tables have become a staple accessory in many homes; as popular now as grills, outdoor furniture, and fully equipped outdoor kitchens. Generally, they all function the same way with a hidden tank of LP gas under the tabletop, but the decorative aspects can vary greatly with each manufacturer. And as with all other products made today, improvements and updates are introduced annually. We'd like to show you some of the lovely items available and that can be ordered from SandStar Interiors!
Color, size, shape, function and price range will be the first aspects that will need to be determined. What is the size of your lanai? What shape furniture pieces do you have?
Do you need a round fire table as the centerpiece when using curved sofas or 4 swivel chairs?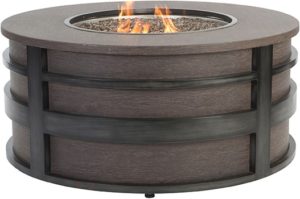 Or would a rectangular or square table be a better fit?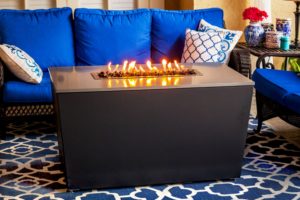 How about size? 42" round or square would work well for about 4 people in swivel chairs or 4 club chairs. Rectangular tables vary in size from approximately 28"W x 46"L to larger sizes like 36"W x 54"L and will accommodate both rectangular sofa and love seat configurations.
All sorts of accessories are available to add for your total convivial pleasure! Some tables have larger granite surfaces which allow for dining and light cooking to be done. Woks and small hibachi grills can be added for cooking appetizers, and covers can be ordered to give your table a solid coffee table appearance when not in use as a working fire pit.
The gas flames in fire pits and tables rise up through a bed of glass chips which can be ordered in a variety of colors.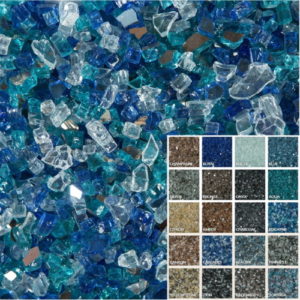 Glass wind screens are also available.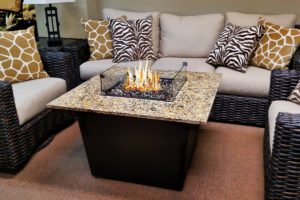 Styling comes into play, too. Do you prefer a Traditional look?
A live edge or normal?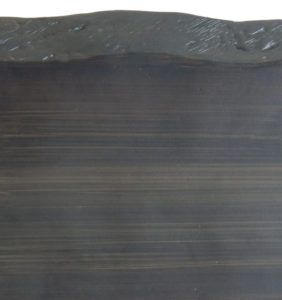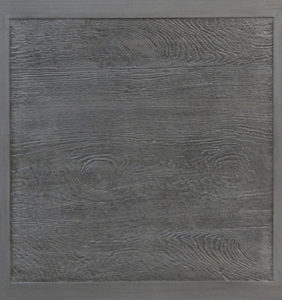 Or are you more Modern?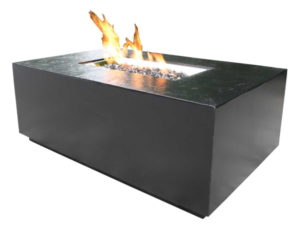 How about BTUs?! BTU, which stands for British Thermal Unit, measures the energy output of a heat source. While some fire tables have a heat output of 40,000 BTUs, which is generally enough for social ambiance, some manufacturers offer outputs of 50,000 and 60,000, which provide enhanced cooking results.
Though most of these appliances arrive fully assembled, it is possible that some light assembly would be required to set up your outdoor fire pit and our staff at SandStar can assist with this, too.
Please let me know how I can help you create the perfect outdoor and poolside seating area. Call 941. 205. 2957 or email olenat@sandstarhomes.com for a private consultation.
With best regards. Stay safe,
Olena Turkalo
Interior Designer
SandStar Interiors